The first GPU with PCIe 5.0 compatibility has arrived on the market. MTT S80 claims to be the fastest gaming GPU. But is it? Let's find out!
China's Moore Threads S80 is the Only GPU With PCIe 5.0
Since Moore Threads, a Chinese computer hardware brand, launched the PCIe 5.0 compatible GPU model, the news has spread like wildfire. Every gamer and content creator is talking about it. Some of them managed to get their hands on the S80 GPU. But it wasn't what people expected from a PCIe 5.0-compatible GPU. We'll talk about that later, but before that, let's briefly overview the MTT S80 and what it offers.
MTT S80 is a 16 GB GDDR6-based GPU. It is designed especially for ultra-HD gaming, 3D rendering, AI/ML programs, and multimedia processing. It has 4,096 cores with a clock speed of up to 1.8 GHz. The texture and pixel fill rate of S80 is 460 GTexel/s. It promises a frequency of 57.6 trillion operations per second (TOPS) and up to 14.4 TFLOPs (trillion floating point operations per second).
All these specifications put S80 on par with other GPUs, such as RTX 3070 and GTX 1060. However, memory lanes compatible with 5th generation PCIe sets it apart from the competitors. But does it makes a difference? Because people want performance rather than fancy name tags.
Let's fact-check what we know so far about the performance of the MTT S80.
Gaming Performance is No Better Than GPUs With 4th Generation PCIe
BullsLab, a YouTube channel, was the first public platform to get its hands on MTT S80. The channel is known to give unbiased reviews on the performance of gaming PC hardware. They compared the fps rate of well-known games on different GPUs, including the MTT S80.
What were the results? Let's find out!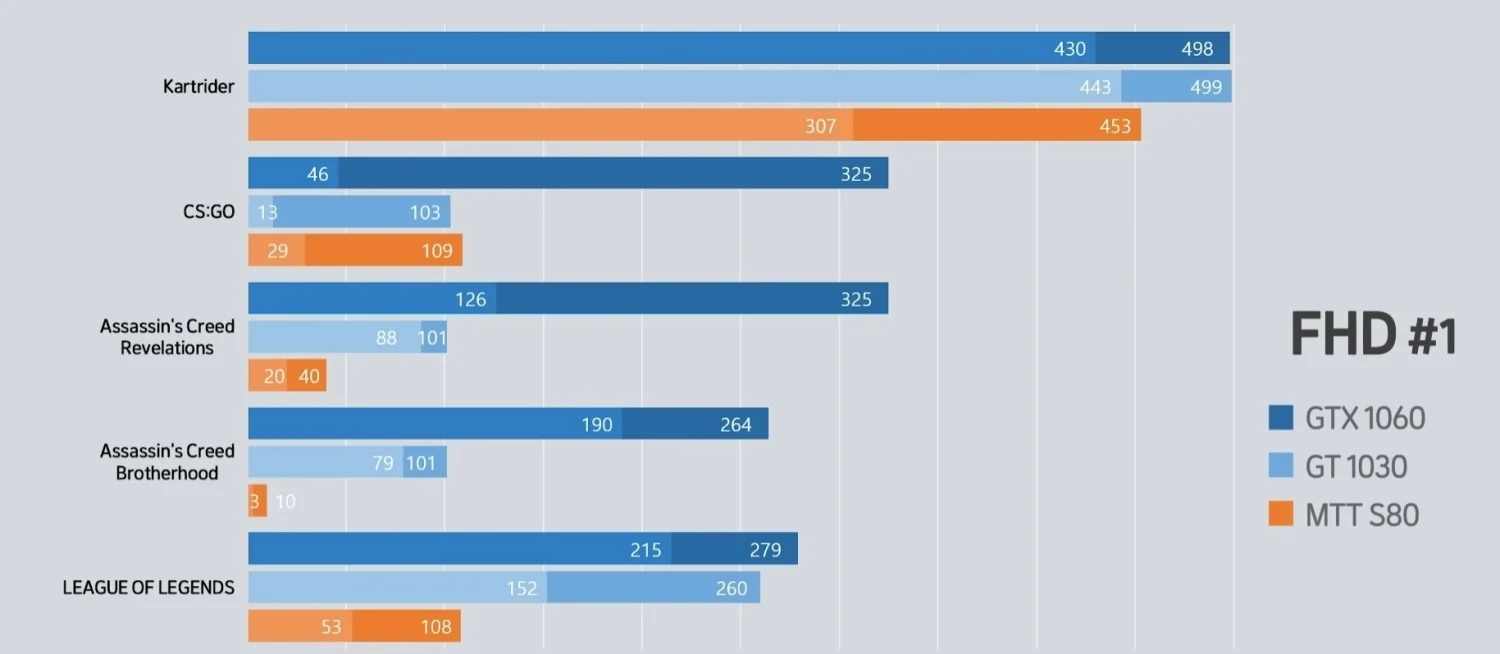 When Assassin's Creed Revelations was played using NVIDIA GeForce GTX 1060, it gave way better fps rate and gaming experience than MTT S80. Among other games for which MTT S80 was tested against GTX 1060 and GT 1030 were Kartrider, CS: GO, Assassin's Creed Brotherhood, league of legends, StarCraft II, The Elder Scrolls V: Skyrim, TREE of SAVIOR, CYPHERS, LOST ARK.
MTT S80 could not surpass the gaming experience of GTX 1060 even in one of these games. Let alone surpass; it didn't even come close, as seen from the graph. Only in a few games its performance was at par with GT 1030, an entry-level GPU offered by NVIDIA since 2017.
This clearly shows that the gaming performance of PCIe 5.0 MTT S80 GPU is average at best. It cannot surpass or even meet the performance benchmarks set by other GPUs based on the 4th generation of PCIe.
It is Hungry for Power!
Another reason why you should avoid buying MTT S80 is its power consumption. During operation, it consumed 252 W, which is by far the most by any GPU on the market. In comparison, GTX 1060 consumed only 120 watts, whereas GT 1030 used 30 watts. This shows that something is seriously wrong with the design and architecture of the MTT S80.
Should You Buy it?
Probably not. MTT S80 is an overpriced and underperforming product. It claims to provide the best gaming experience, yet the performance benchmarks shout a different story. Even if you compare the speed of MTT S80 with older PCIe 4.0 GPUs, it doesn't stand a chance.
So, why waste $430 on a product that uses PCIe 5.0 tag as a marketing gimmick? We must wait for other manufacturers to produce an actual GPU with PCIe 5.0, which enhances the gaming experience.