Netac NV7000 has amazed us with its rock-solid performance in demanding situations. It has fantastic transfer, reading, and writing speeds. You get all that at an affordable price. So, what makes NV7000 such a great prospect in the competitive market of SSDs? Is Netac NV7000 SSD PCIe 4.0 Worth it?
Let's find out!
What are the Specifications of Netac NV7000 PCIe 4.0 SSD?
NV7000 is a solid-state drive manufactured by Netac. Netac offers it in three sizes: 1, 2, and 4 TB. All three have the same data reading speed of up to 7,200 MB/s. The reading speeds of 1, 2, and 4 TB SSD are 5,500, 6,800, and 6,850 MB/s, respectively.
Similarly, Terabytes Written, or the number of Terabytes that an SSD can transfer in its lifetime, are 700, 1,400, and 3,000 for 1, 2, and 4 TB variants. The SSD is 23.5 mm wide, 80 mm long, and 11.25 mm thick. It uses the latest generation of PCIe 4.0 data transfer channels. Courtesy of PCIe 4.0 channels, NV7000 is faster than most SSDs available.
The form factor of NV7000 is M.2. It means that, unlike SSDs of Mini-SATA standard, you can directly plug NV7000 into the motherboard. NVMe interface makes NV7000 faster, superior, and highly compatible. 3D Nand Flash is used to increase storage density. We will shed more light on it in the next section.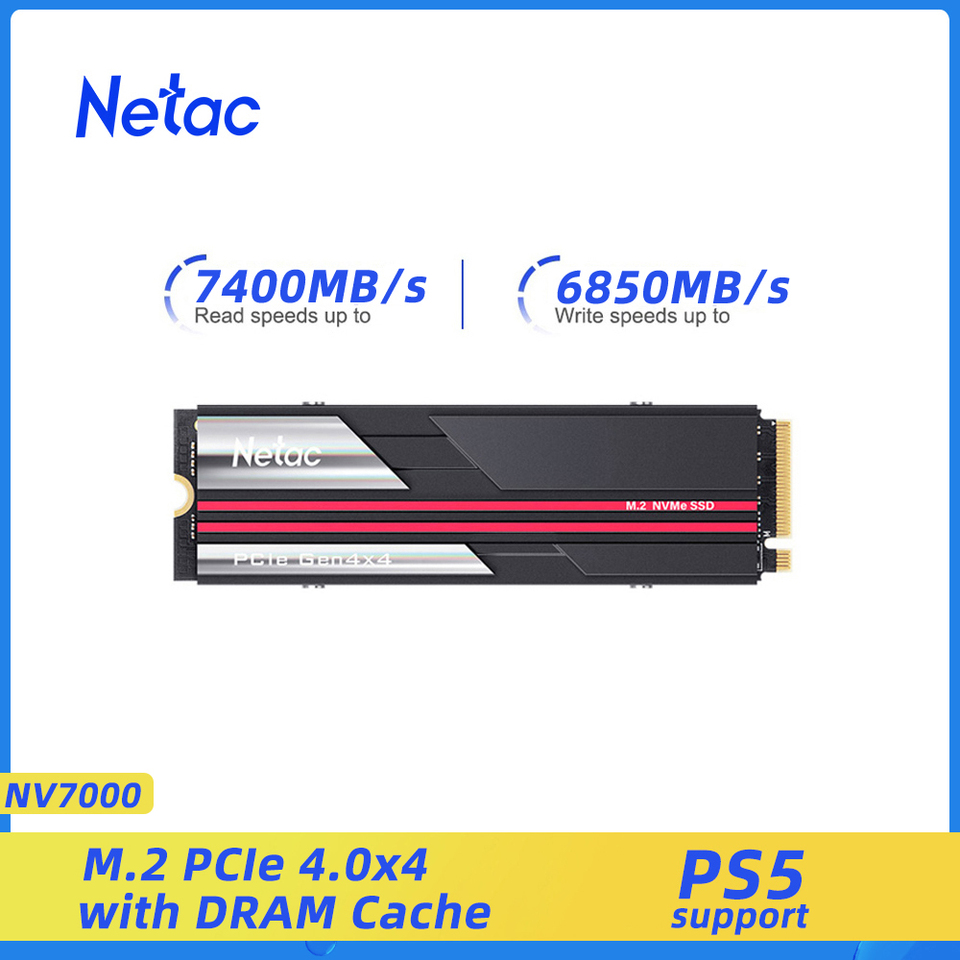 How is the Performance of Netac NV7000 PCIe 4.0 SSD?
The Chinese computer hardware manufacturer launched NV7000 in early 2022. The product was able to stun everyone with its spectacular performance. Rigorous testing has revealed that NV7000 can deliver as promised by the maker or even surpass it.
Let's critically analyze why NV7000 is so fast. It is mainly due to the PCIe 4.0 lanes and NVMe interface. SSDs equipped with PCIe 3.0 memory lanes couldn't utilize the full bandwidth of the NVMe interface. PCIe 4.0 has eliminated this performance bottleneck.
As a result, NVMe SSDs equipped with 4th generation PCIe can transfer data much faster. Also, the NV7000 SSD is very slim for a high storage capacity. The main reason behind this is the use of 3D Nand Flash. 3D Nand Flash allows vertical stacking of data blocks, which results in a higher storage density.
Due to these reasons, NV7000 is a high-performance SSD that performs as advertised.
Is Netac NV7000 PCIe 4.0 SSD Prone to Overheating?
No. Netac NV7000 might be a hot prospect, but it isn't prone to overheating. It comes with intelligent temperature control technology, which keeps the operating temperature under check. The heat dissipation is excellent thanks to the 0.65 mm thick metallic heat sink made of graphene. So, even when your PC is overlocking, there is no need to worry about SSD heating up.
Is Netac NV7000 SSD PCIe 4.0 Worth it?
Totally. You can purchase the NV7000 PCIe 4.0 with 2 TB storage on Amazon for $149. This gives you a dollar-to-GB ratio of just 7.2 cents. Combine this amazing value with the 7,200 MB/s reading speed, and you will get your answer. So, Netac NV7000 PCIe 4.0 is a fantastic option if you're looking for performance-oriented SSDs. It also comes with a 5-year warranty, so that's an added benefit.
To buy this product now, click on the link below:
Netac NV7000 2TB SSD Internal Solid State Drive NVMe 3D NAND PCIe 4.0 M.2 2280 SSD Up to 7000MB/s